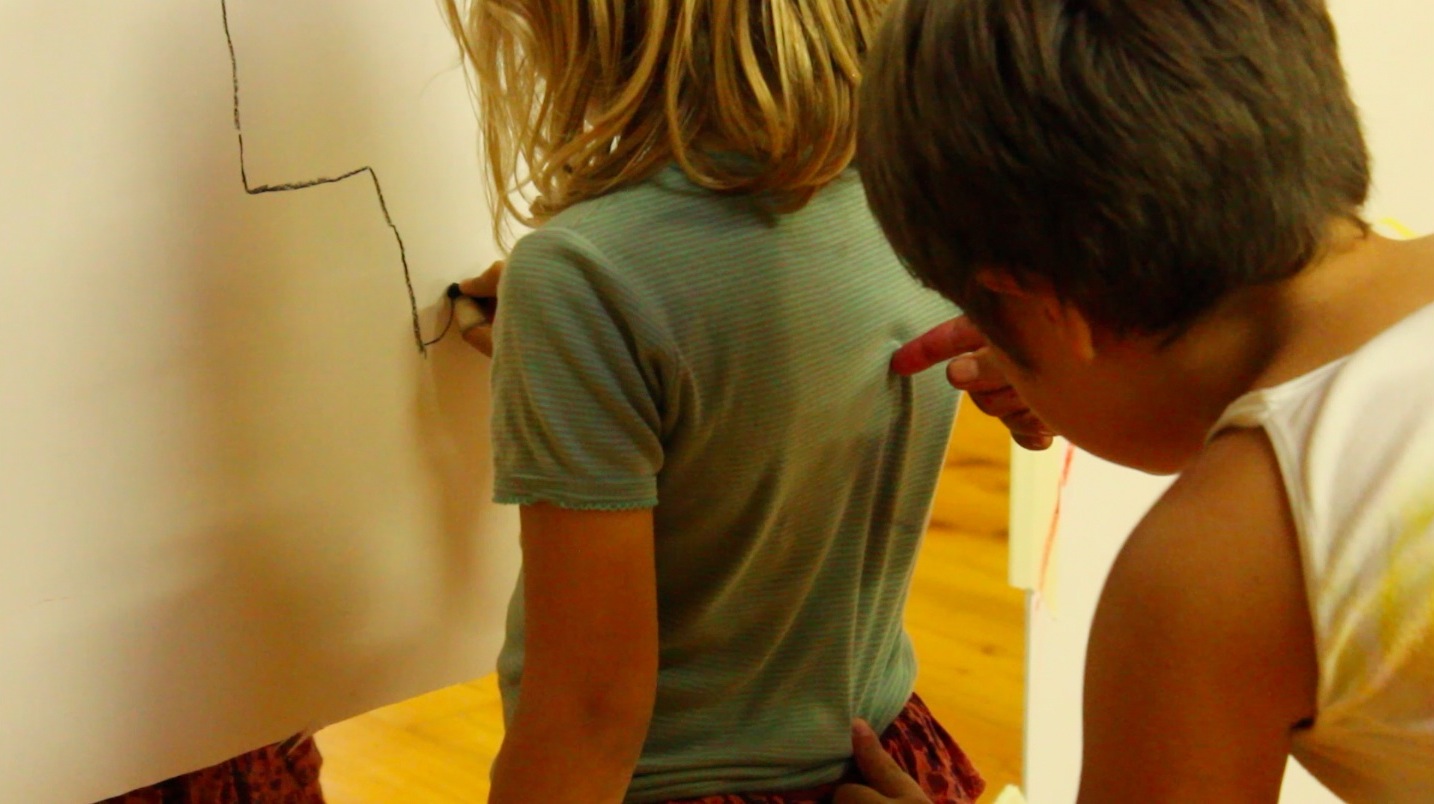 Segni mossi is a research project born in 2014 from the visual artist Alessandro Lumare and the choreographer Simona Lobefaro in order to investigate the interaction between dance and graphic sign with children and adults.
We partner with
Mus-e Italia
to promote social inclusion through art in public primary schools in Rome (IT).
In 2017 we were​​ chosen by ​
HundrED
​organization as ​​one​​ of​​ its ​​100​ ​innovative​ ​education projects​ ​across​ ​the​ ​world.
We worked with Dip. Edu. Museo Mart (Rovereto - IT), Rusza Festival (Wrocław - PL),
Sesc Organization (San Paolo, Belo Horizonte, Rio de Janeiro - BR) XII meeting DES - Danza Educazione e Società (Venezia - IT), La Scuola del Fare (Castelfranco Veneto - IT), Flic Festival (Barcelona - ES), Ente Teatrale del Friuli Venezia Giulia (Udine - IT), Belozer Studio (Moscow - RUS), Cia Mariantònia Oliver (Palma de Mallorca - ES), Fundació Antoni Tàpies (Barcelona - ES), Shouze Arts Center (Beijing - RC), Festival Tuttestorie (Cagliari - IT), Institut de la Infància (Sant Cugat - ES), Project Skytali (Athens - GR), Scuola di formazione e ricerca in danza educativa e di comunità Centro Mousikè (Bologna - IT), Dance Centre Myway (Kiev - UA), Arropaineko Arragua (Lekeitio - ES), Espai Evohé (Tarragona - ES), Primavera Pedagogica (Andria - IT), IVAM - Institut Valencià d'Art Modern (Valencia - ES), Taipei City Cultural & Creative Exchange Association (Taipei, TW), Hangzhou University (Hangzhou - RC), Chicos a Bailar (Buenos Aires - RA), Teatro Solís and Taller Casarrodante (Montevideo - ROU), Università Roma Tre - Laboratorio di Pedagogia dell'Espressione (Roma - IT), Nový priestor (Bratislava - SK), Arteducarte (Quito - EC), Arts & Therapy Institute (Sofia - BG), Al Jalila Cultural Centre for Children (Dubai - UAE), Salon du livre et de la presse jeunesse en Seine-Saint-Denis (Montreuil - FR)…
With our training courses we aim to encourage and motivate teachers, artists and curious minds to keep on moving in their personal researches and to make improvements in their working environments.
What is a Segni mossi training?
Two days full of drawing-dance operating group practices, there to experiment with kids, adolescents and adults, within school, social, dance and art education contests. But above all, it's an involving experience and a personal growth opportunity.
Which training should I attend first?
Get inspired by the issues, each program is complete in itself.
YELLOW training
---
Issues:
the group in the space;
speed and strength of the track;
the darkness;
the ephemeral;
traces in our memory;
the dynamics of the jump;
symmetry in our bodies and drawings;
looking practices.

INFORMATION
ORANGE training
---
Issues:
continuity;
opposites;
inertia;
the behavior of a liquid;
gravity;
out of balance and suspension;
loss of control.

INFORMATION
RED training
---
Issues:
Impulses;
Propagation;
Deformation;
Architecture;
Expansion;
Inside and outside;
Trajectories;
Networks.

INFORMATION
Who said you paint sitting down? That while the hand slides on the paper the rest of the body should remain to sleep? You can draw with the whole body: running, jumping, laughing. You can draw without looking, with the body of the other, with your voice, in the air. You can be incisive and you can get lost in space. You can leave a mark even while remaining motionless.

Our workshops intend to offer participants an occasion to help overcoming fears and conventions related to alleged drawing incompetence, to become more confident in using their bodies as comunicative tools, to develop the ability of engaging themselves in group activities, to stimulate critical thinking and aesthetic feeling.

We conduct occasional and continuing workshops in school contests, festivals, museums, theaters, cultural centres.
Salva
Salva
Salva
Salva
Salva
Salva
Salva
Salva
Salva
Salva
Salva
Salva
Salva
Salva
Salva
Salva
Salva
Our interactive performances for children and their adults are barrier-crossing games between audience and artwork and occasions of unusual intergenerational relationship. They are designed to rediscover the wonder of leaving a graphic trace.
Al cubo
---
An experience between music, movement and mark. A permeable and transparent cubic structure. People are free to move around it.
A dancer goes trhough the structure, she inhabits the space.
A designer marks the traces of her activity and inactivity on the transparent walls of the cube.
A musician builds his musical score in relation to what happens.
The audience gradually become confident with the mechanism, they are led to take part. Some markers start going round, passing from hand to hand: people start drawing, discovering themselves through the walls of the structure. Everyone is immersed in his own research, everyone is part of the collective action. Marks, gestures reverberate in music. The experience finally dissolves. The sound stops. Buzz, words, smiles, running children into the space.
100.000 passages
---
A living picture that pulses, that changes, in which you are completely immersed and that will live for the duration of the experience.
We wear white panels.
We cross the space.
We are like a sea current, we advance, we draw back, we swirl.
We are the breath of the sea.
Everything is in motion: bodies, glances, smiles.
Then the color comes, our passages, our crossings leave their trace.
Traces of color overlap on the panels, adding, dissolving.
The sea is rough, the sea is celebrating.
The wind drops, the sea calms down.
Imperceptible breeze.
Greetings.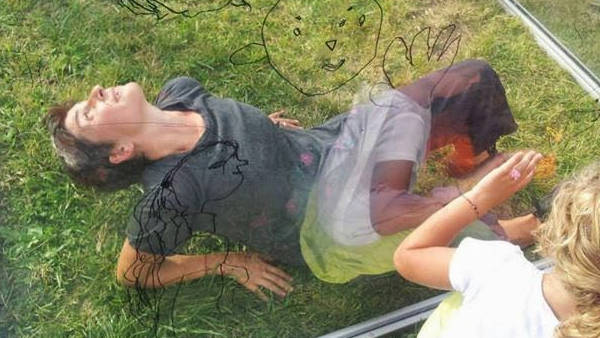 Simona Lobefaro
comes from a multidisciplinary training. The pivot of her work are the research dance and the performance. She is the choreographer of MAddAI, whose artistic route has always put in the center of the matter the unexpected, leading to open scenic choices, where the outcome is never obvious. She is part of the dance research group Sistemi Dinamici Altamente Instabili by Alessandra and Antonella Sini. As a trainer she conducts movement workshops for adults, children, adults and children together.
Alessandro Lumare
is an author of illustrated books for children, art trainer and atelierista. He has a professional experience as video maker, dancer and sociocultural operator. His artistic research is characterized by multidisciplinary and attitude to innovation.
www.alessandrolumare.blogspot.it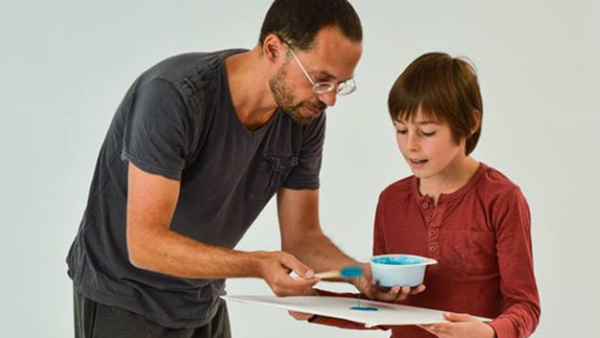 Salva
Salva
Salva
Salva
Salva
Salva
Salva
Salva
Salva
Salva
Salva
Salva
Salva
Salva
Salva
Salva